Writing Samples - Web Articles
Around the World in One Year – Part 1
Let's Do It!
Sitting in our favorite coffee shop in Chicago, I was paging through an Italian magazine, looking at pictures of Tuscany and Italy's coastline. "We could go there and stay for a year," my husband Bill said jokingly. Within fifteen minutes, the joke turned into a plan. This was the perfect time in our life to leave for a long stay abroad. I was graduating, we didn't have children yet, Bill was planning a career change, and we had the money to travel on a comfortable budget.
The decision was made. We started to check off tasks we had to accomplish before leaving. Bill had to terminate his office lease. Insurance needed to be arranged, our condo sold, reservations made, gear bought. Bill also found a tiny portable computer that allowed us to stay connected to friends and family, as well as to our accountant and bank accounts in Chicago. We obtained credit cards that could be reconciled via the Internet.
We also discovered the "Around the World Ticket" offered by United Airlines. Travelers can book 22 destinations around the globe, flying in one direction within one year. The price in 1999 for coach travel in the highest mileage category was $3,700. We made reservations for the first half of the trip, though travelers may book their flights just a few days ahead.
The last month before departure kept us extremely busy. The whole household needed to be packed, along with only three bags to take on the trip. The last bills had to be paid, Bill moved out of the office, even a last will was signed. The moving company picked up all our possessions and put them in storage. The sale of our condo proved to be an easy deal, and even provided unexpected additional funds for travel expenses. Tired and over anxious—it sure takes nerves to finalize all these transactions—we finally stared at our luggage, relieved of all bill payments and responsibilities, and began to realize the exhilarating feeling: We are on our way around the world!
New Zealand: A Natural Playground
After consecutive flights totaling about 18 hours, we arrived in Christchurch, New Zealand, on October 12, 1999. The airport info center provided plenty of travel and lodging destinations, of which we chose Sumner for our first stay. The village is located just outside Christchurch, next to steep cliff terrain dropping to the ocean. The rugged cliff trail to the village of Taylor's Mistake opened spectacular views onto the roaring waves, varieties of sea birds, and great rock formations separated from the coast by years of wind, rain, and ocean abuse. We left the next morning for Mt. Cook, New Zealand's highest peak, and the Southern Alps glacier region. Except around large cities, all the roads are two-lane "highways," where one may encounter another car once an hour. Twisting mountain roads add an adventurous touch; however, they also increase travel times dramatically.
At the village of Mt. Cook, we awoke to snowy mountaintops blazing in the early sunlight (left). We hiked to Key Point to enjoy the majestic views of Mt. Cook, the moraines formed from rocks left over by the receding glaciers, and milky blue glacier lakes. The next day we added a 3-hour hike across numerous single-track suspension bridges to the Hooker Glacier. The lake beneath is filled with huge chunks of glacier ice resembling swans, mushrooms, and other objects. A 50-minute Cessna plane ride allowed us to inspect the Southern Alps region from a lofty perspective. The mountain peaks seemed to fly toward us. Endless glacier ice flowed down into deep valleys—a silent, imposing world few humans have explored on foot.
In Queenstown, the adventurous crowds gather all year `round. Whatever outdoor activity you enjoy, you can find it there. We chose an all-day hike on the famous Routeburn Trail and white-water rafting on the Shotover River. After clothing ourselves in wet suits (for water temperatures of 45 degrees), we rode in a bus up and down Skippers Road, a single-lane dirt path cut into the side of a steep mountain face. Thankfully, our guide Linda introduced the waterway dangers before we hopped into the raft and took on the white water.
The ride through narrow gorges and untouched landscapes involved a series of chilling rapids and finished with a dark 900-foot-long tunnel opening onto another cascading rapid.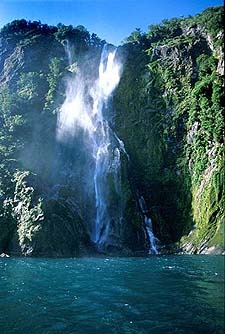 For more splashing events, we proceeded to Fjordland National Park, where we had booked an organized boat cruise into Doubtful Sound and a scuba dive in Milford Sound. The fjords showered us with an abundance of waterfalls (right). Hundreds of them came crashing down the sheer mountain faces. We saw playful seals and the world's rarest penguin, the tawaki (fjordland crested penguin). Diving in Milford Sound meant jumping into icy waters of 42 degrees Fahrenheit. For so much suffering, we had hoped to find a greater abundance of fish and coral. The rain had increased the tannin layer (tea-colored freshwater dyed from the vegetation in the fjords) on the surface of the salt water, making the dive environment dark.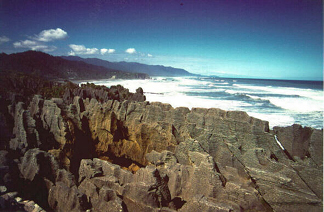 Heavy rains also darkened our drive to the west coast. During short rain breaks, we hiked into abundant rain forests along the coast. An astounding variety of glittering ferns and mosses covered the ground and huge trees. We stopped to explore the Pancake Rocks (left), a phenomenon of limestone rock layering along the coastline that geologists aren't quite able to explain. Growling waves tried to swallow the beaches in hidden coves where we had hoped to take a sunbathing break.
Though the rainfalls had driven us up the west coast more quickly than we'd planned, we soon realized that we didn't have enough time to complete our desired tour of the south island. So we headed straight east for the coastal town of Kaikora, known for whale watching, dolphin and seal swimming, and scuba diving excursions. We managed to fit in only two of these activities, a scuba dive into diverse kelp forests and a dolphin encounter. Swimming with wild dusky dolphins allowed us to interact with these fascinating animals in their natural environment. We were directed to sing into our snorkels and flop around in the water to entertain them and keep their attention. What a ghastly choir! Two or three pods of five to ten dolphins each seemed to enjoy it. They would swim very close and look right into our eyes, then dart away, showing off their more advanced artistic abilities.
New Zealand surprised us with its natural wonders and untouched beauty, its relaxed, friendly people, and an abundance of things to see and do. In 14 days, we were able to cover only a third of the south island, a sixth of the whole country. We hope to return in the future, to drive once again through the green valleys dotted with thousands of sheep, along the snow-covered mountain ridges and the rugged, desolate coastline hugged by endless thick rain forests.