Writing Samples - Web Articles
Around the World in One Year – Part 2
Australia: Nature's Down-Under Treasures
Australia draws tourists for obvious reasons: Sydney, Ayers Rock, Outback, rain forests, and reefs. Sheer size forces the traveler to make a few sightseeing choices. More than three months of travel time allowed us to seek and find some of the hidden treasures of this vast continent. While the cities and coastal villages are worth a visit, we concentrated on natural phenomena, on the world's most beautiful beaches and largest reefs, on the distinctive mountains and rock formations, the unique flora and fauna living exclusively in Australia.
Amid the Great Barrier Reef
No amount of research could have prepared us for the pleasure, excitement, and adventure we found on Heron Island, a sand speck in the Pacific Ocean. Located 50 miles off the east coast of Australia, straddling the Tropic of Capricorn, the island sits on the southern end of the Great Barrier Reef. A true coral cay, it was formed by thousands of years of coral breakdown and depositing by ocean currents. Once the cay rose above sea level, birds came and left behind the seeds of life. Today, Heron Island's forests are inhabited by such seabirds as the notty turns and the mutton birds. Approximately 60,000 birds visit the island during mating season. Every tree held multiple leafy nests; the loud, whiny cries of the birds wakened us throughout the nights.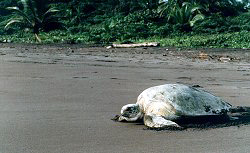 The opportunity to witness the sea turtle mating season was yet another unexpected surprise. Every six years the large green and loggerhead turtles visit Heron Island to lay their eggs in the sand above the beach, as they have for thousands of years. During darkness and high tide, the females drag themselves across the sand six times within one month to lay about 120 eggs each time. They spend two hours digging a large body hole and an even deeper egg chamber. While laying, the turtle enters a trancelike state during which it is safe to approach her and even shine a light. She then spends another hour covering the eggs with sand. We were in tears when a research biologist removed a freshly laid egg and dropped it into our hands.
The actual mating dance had to be observed under water. We decided not to dive on our first day on the island and opted to snorkel instead. Snorkeling from the beach in the morning, we saw dozens of turtles, a white-tipped reef shark, a lazy group of stingrays lying in the sand, and many playful small fish. Later a boat excursion took us to the Coral Grotto, a dive location among endless stretches of coral. We were swimming above a rainbow of colorful hard coral and fish of all types. A huge manta ray glided through the waters right below us. Plate coral grows to the size of a car; caves teem with schools of sparkling fish; sharks, groupers, cods, and rays enjoy the feast; moray eels emerge from their holes; green and loggerhead turtles wheel through the water; and octopi change colors right before one's eyes. Eighteen dive excursions allowed us to become part of the miraculous underwater world of the Great Barrier Reef, which soon turned into an addiction not easily left behind after nine days on the island.
Nature's Unique Creations along the East and South Coast
Driving south, we alternated between walks on gleaming, secluded beaches and hikes in several inland mountain areas. A one-day excursion introduced us to Frasier Island, the largest sand island in the world. Although a little rushed for our taste, the trip gave us opportunities to swim in a perched freshwater lake, drive up and down miles of white beach, hike among tree species found only on this island, and observe the purest breed of Australian wild dogs, called dingo. Frasier Island also features five large freshwater lakes, 60 miles of beach "highway," and countless interisland sand roads.
The Blue Mountains plateau, situated about one hour west of Sydney, is surrounded and cut by deep canyons, with vertical walls rising 400 to 600 feet from the valley floors. The whole area is covered with lush rain forest. Sunshine and cooler temperatures invited us for a long hike. The way downward included several vantage points from which to look up onto high, gleaming waterfalls or out into the dense tree canopy. The extremely steep 900-step stairway off the valley floor tested our cardiac fitness. One felt truly elated after reaching the plateau!
After one week of hectic sightseeing in Sydney, we escaped to the quiet scenery of Tasmania (see below). We had been traveling for two months when we arrived in Melbourne in December, where we soon realized our exhaustion. Staying with friends was a perfect change of pace and allowed us to use their home as a base for the next five weeks.
A lazy week of "normal" life in Melbourne prepared us for more captivating scenery along the Great Ocean Road. The 180-mile shoreline drive is certainly one of Australia's most beautiful roadways. Charming villages on picturesque bays and sculpted coastline greet you around every turn. Near the end of the drive awaits the true attraction, the whimsical limestone formations, starting with the Twelve Apostles. Nature's great sculpting talents have created a vast area of freestanding monuments, which constantly alter their shape and position as wind and sea continue the carving.

On our return trip, we visited an old lighthouse at Otway National Park. As we made our way down a dirt road through eucalyptus forests, I spotted a koala and soon realized we were surrounded by a tribe of 18 koalas, including two mothers with tiny babies. The males displayed their protective powers by releasing grunting sounds that we could hardly believe where produced by such a cute, placid animal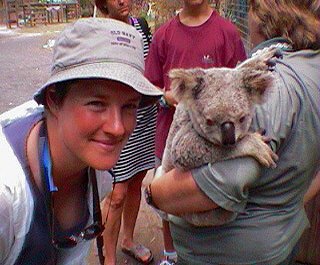 . Only in such remote areas can one spot koalas in their natural environment, mostly sitting high on eucalyptus branches. (The image on the right was taken at a nature park.) Koalas are usually busy chewing on leaves or slouching in their natural recliners and snoring. Babies are clinging to their mothers' chests.
The following weekend our friends took us to their remote bush property in Strathboogie. Every true Aussie bloke enjoys the pastoral times at his shed, usually a primitive structure in the middle of the woods. Paul certainly showed us his expertise in the art of living rustic but not without refinement. He roasted lamb with vegetables in the fire pit and served the gourmet meal with a fine Penfold's Cabernet/Shiraz. A koala even descended from its lookout to check out the fare. On hikes through the forest we encountered other down-under inhabitants such as the spiky echidna and the sleepy wombat.
After Christmas we departed for the Victorian Alps. Our route took us through a small wine valley, where we stumbled upon the Domain Chandon vineyard and acquired our New Year's champagne stash. After hiking to various peaks in the Alps, we arrived in the charming village of Bright on December 30, where we decided to stay for the New Year's celebrations and explore the imposing mountains of Buffalo National Park. Although Bright was filled with people, the info center found accommodations for us at a gorgeous B&B tucked away in Buckland Valley. The two-mile driveway to the house led through a secluded valley, part of the 22-acre property, with a generator for power and a stream for fresh water. Wild pink galahs (cockatoo family), multicolored lorikeets, and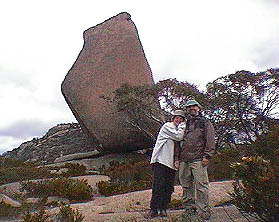 other beautiful bird varieties visited the bird feeder each day. The deep black night sky displayed more stars then we had ever seen elsewhere. The Milky Way and many nebulae could be viewed perfectly with the naked eye. We spent New Year's Eve day exploring the granite formations of Buffalo National Park. As if giants had set up a game of marbles, the sparsely vegetated landscape displayed mounds of rounded boulders. Ladders leaning against some gravity-defying monoliths (image left) allowed us to climb atop for full panoramas of the Victorian Alps. Other boulder piles needed to be tackled from the inside, where we often squeezed through small spaces or slid down smooth rock faces—challenging but invigorating way to end our stay at the Alps and the millennium!
Tasmania: A Well-Kept Secret
An island located across the treacherous Bass Strait, adjacent to the southeastern corner of Australia, Tasmania more than deserves its lovely epithet, the "heart-shaped surprise." We immediately extended our stay, realizing the multitude of sights we wanted to explore. Our first destination was the Tasman Peninsula, home of Port Arthur, one of the oldest penal colonies established in Australia. Following our tour of the grounds, we embarked on a 40-minute seaplane tour over the peninsula. Much of the shoreline consists of vertical dolerite (a volcanic rock) walls rising out of the water to heights of about 600 feet (image below). Years of weathering have formed spectacular features and some freestanding monoliths.

From the Tasman Peninsula we drove up the east coast to Bicheno, a recommended dive spot close to Freycinet National Park. During check-in at a beachfront hotel we were notified that their hotel beach is a protected penguin rookery and that a free tour was included in our stay. Although a little skeptical, we joined the group at 9:00 p.m. Our guide explained that for the next two to three months, the penguins would be breeding and raising their young along this short stretch of beach. Normally a female will lay two eggs. Penguins need the vegetation-covered dirt embankments just up the beach in order to dig nest holes in the ground, as these would collapse in sand. They return to the same nests year after year, as they have done for many generations.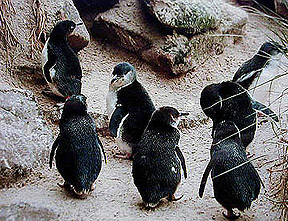 As we stood above the beach our guide kept pointing his flashlight at two large rocks on the water's edge. There the penguins would gather in large numbers before feeling safe to run across the beach, jump over the boulders, and climb up the bank to their homes. One of the parents goes out to sea each day to gather food and returns after sunset. While we awaited the penguins' arrival, the guide walked us along the top of the bank, pointing out nesting spots. Inside the nests you could see the adults with two chicks. One chick was sitting outside eagerly awaiting the next meal. About six weeks old, it was still covered in a fluffy gray fur that would soon disappear. On the next pass of the flashlight we spotted 30 to 40 penguins waiting to cross the beach. A short time later the birds were walking right by us in groups of five or six, speeding toward their families. We observed one adult regurgitating food for the chick and others fighting off chicks from other families who didn't want to wait for their own parents. A loud and illustrious scene!
Our travels continued to Freycinet National Park, where we hiked to and around Wineglass Bay (image below) and other beautiful, untouched bays, spotting many kangaroos and wallabies (a smaller version of the kangaroo) sitting on the trail. These animals also visited often at campsites and even performed some of their famous boxing fights for us.