Writing Samples - Web Articles
Around the World in One Year – Part 3
A Tale of Two Cities: Beijing and Hong Kong
One was hidden from the world by communist regimes, the other a showcase of capitalism. For many decades, Beijing and Hong Kong symbolized opposite philosophies. But since Hong Kong was returned to China and communist rule in Beijing has undergone reform toward a free market society, the cities now seem to converge. Western influence is sweeping through the whole country, changing its look and culture. But among the skyscrapers, McDonald's, and shopping malls one can still find the remains of an ancient culture. And one hopes, that industrial growth and Western modernization will not extinguish the cultural riches that have survived a long and often violent history.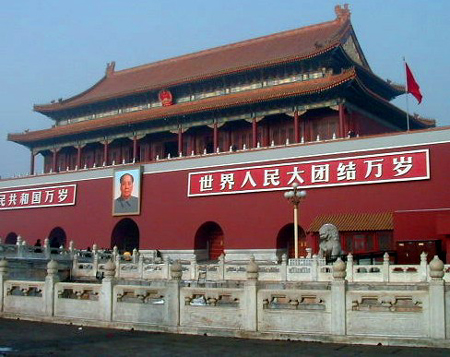 The picture of Mao Zedong still hangs at the entrance of the Forbidden City (above), looking down on the Chinese people and Beijing's visitors. Mao's abuse of power, crazy government programs, and destructive pursuit of the class enemy cost the lives of millions of people, and almost eliminated all traces of China's ancient history. Fortunately, some of Mao's more thoughtful officials saved many of Beijing's ancient treasures from the Cultural Revolution. The well-maintained sights are now proudly presented to tourists and enjoyed by the general population.
After strolling across monumental Tiananmen Square, we entered the impressive gates of the Forbidden City. The seemingly endless complex of halls, temples, and private quarters is divided by enormous courtyards, white marble terraces and stairways, and massive walls with ornate entrance gates. The buildings exhibit huge, red wooden columns and intricately painted ceilings, beams, and carved window shutters, and are covered with glazed tile roofs.
We would find this architectural style throughout the other temple and palace facilities we visited during the week. The Summer Palace, a vast complex of private buildings, pavilions, temples, and amusement quarters, is situated on Kunming Lake. A path crosses the shallow lake and leads across seven different bridges. This steep marble "leap" is certainly the most impressive example.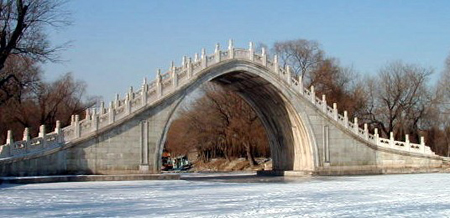 The equally enormous grounds of the Temple of Heaven provided another full day of spectacular impressions. Many structures within the complex are round, including the marvelous main temple (below).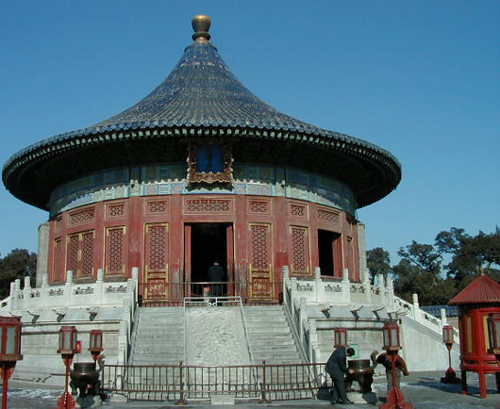 The smooth walls hugging a round ceremonial plateau carry a whispered message to the opposite side 60 feet away. A high marble road connects the various ceremonial buildings and halls within the grounds.
The sheer size of the sights within the capital kept us busy for one week. We did venture to the countryside for one day. A region called Simatai, eighty miles northeast of Beijing, was recommended as the most stunning place to see the Great Wall. Twenty-seven guard towers are connected by the wall on top of this mountain ridge. We will always treasure the spiritual feeling we shared while standing on this magnificent structure, 4,500 miles long, watching it serpentine across the distant mountains like a giant snake.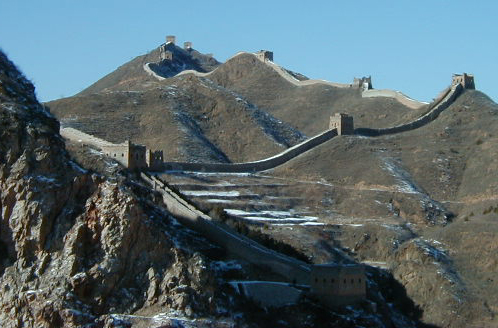 Eight days in China's capital gave us just enough time to explore some of the most famous sights. We had not expected such a rich collection of ancient monuments within the city and suburbs of Beijing. Our visit not only introduced us to the rich cultural heritage of this ancient country, but also allowed us a glimpse of current living conditions. The majority of the population still lives in third-world conditions. Whole families share tiny, muddy rooms in walled communities within the city. Garbage covers the streets. Coal burning and thick traffic create air pollution you can taste. The streets are filled with thousands of bicycles transporting people, coal, furniture, food, and other goods even in freezing temperatures.
But Beijing's streets are also testimony to a China heading in new directions. The main boulevards are starting to resemble any other modern city. Large hotels, shopping centers, high-rise bank buildings, and international companies have brought Western goods, money, and thoughts to the Chinese people. Visitors are now allowed to freely walk the city streets and even drive to the countryside. With the availability of information and alternative philosophies, China's masses should strive to create a new nation. We left Beijing feeling optimistic that this country has learned from past mistakes and suffering and will build a future without fear and oppression. And we hope one day the people will remove Mao's image from the entrance to the Forbidden City.
Beijing's decision to welcome the world and modern facilities has quieted popular opinion that lack of freedom and commerce will cause Hong Kong's demise. The return to China has not affected the city's commercial significance and ever-growing landscape. Hong Kong still booms and rushes and drones and grows. The impressive skylines of Hong Kong Island and Kowloon (below), competing for prominence on opposite sides of the bay, advertise boldly: This city will remain a leader in the world of excess and big business.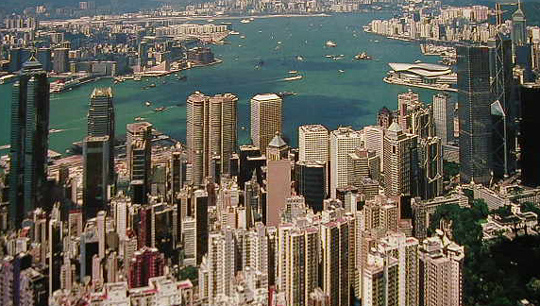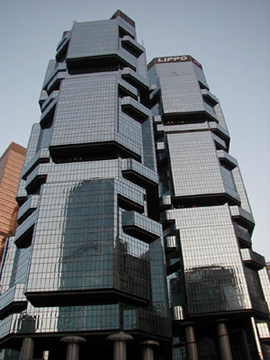 With high peaks looming behind them, Hong Kong Island's skyscrapers look crowded from afar. But standing amongst them, we were surprised by the harmony and openness city planners have achieved. Our eyes pointed mostly upward as we strolled through this vast maze of concrete, steel, and glass. Mirrored glass of different colors reflects the images of neighboring structures.
Parks, fountains, and plazas with landscaped terraces allow for a "down-to-earth" rest among this gigantic architecture. Hong Kong Park features enchanting ponds fed by waterfalls and filled with colorful fish. Nearby the cityscape opens for the park areas of the botanical garden. In addition to interesting plants, cages throughout the gardens house many endangered species. Exiting on the other side, one again gets swallowed by towering heights rising from narrow streets.
Between the high buildings hide illustrious street markets. Diving into the sheer variety of goods and people becomes a truly Asian adventure. Vendors cram their goods into tiny stalls or display them on high scaffolding. Meats of varieties we didn't care to know about hung on hooks out in the open. Dried food shops filled with barrels of unidentifiable products, mostly sea creatures, equally amazed and alarmed us. Smells, sometimes pleasant but mostly violent, engulfed us constantly. We didn't dare to taste or touch, but enjoyed inspecting such exotic goods.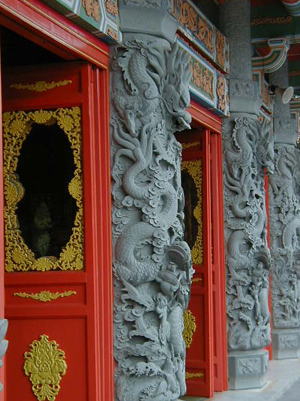 We spent the last day exploring Cat Street, another historic area surviving among shiny shopping streets and business districts. Antique shops mix with street vendors selling souvenir paraphernalia, and tiny stores or holes in the wall stuffed with old junk. The intense smell and smoke of incense spirals escape the dark halls of neighborhood temples (detail left). We welcomed the fragrance of Chinese teas inside a fine tea shop, where we enjoyed practicing a relaxing traditional tea ceremony and the unusual taste of two exotic blossoms.
The aging process of China's cities creates a highly concentrated, churning mixture of traditions and modern life. Nauseating ingredients like dirty air; loud streets with huge, tacky neon signs; honking traffic; and rushing people are sweetened by a scented haze that shrouds the vibrant temples; the exciting bustle of street markets; and the remarkable facts and mysteries of Chinese history. Beijing and Hong Kong serve the ultimate cocktail of Asian city life. May the taste remain a balanced one!